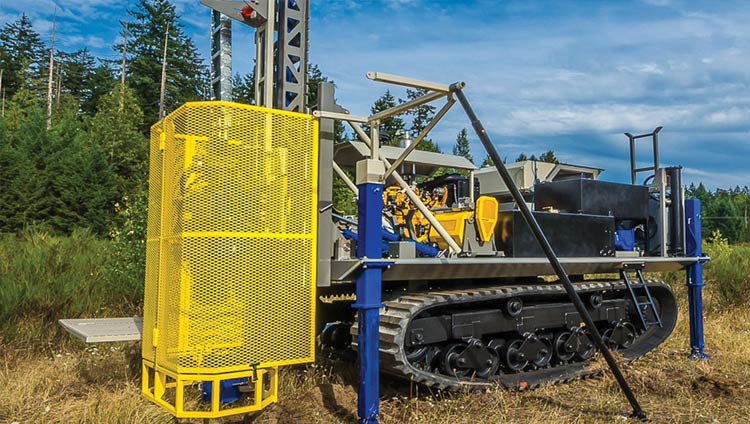 Prospectors hoping to strike it rich have journeyed to some of the harshest, most remote places in the world in search of gemstones and precious metals since the Gold Rush began in the mid-1800s. In fact, an estimated $67 million was spent in Alaska exploring for gold, silver, copper, zinc, lead and coal in 2014, according to the Alaska Miners Association.
The staff at Zinex Mining understand this passion. The company leveraged its past experiences and expertise in mining and began designing and fabricating diamond-bit core drills so that others could continue their quest. Along the way, the company struck gold. "The first drill took nine months to build, and then we built four drills in four months," recalls Matt Conley, fabricator for Zinex. "Before long, business exploded for us. We were working night and day the first year to get product out there."
Today, the track-mounted diamond drills are sold through Zinex Mining's headquarters in Whistler, British Columbia, Canada. "If a client buys a Zinex drill, they have the confidence in knowing it will perform well because it was designed by a driller," says Conley.
Zinex diamond drills are used for the hard-rock exploration of minerals, such as diamond, gold, silver, zinc and copper. "The drills can be used to sample for any minerals in bedrock or hard compact ground. There are many minerals in hard rock that people will mine," explains Conley. The drills take core samples several thousand feet deep. These samples are then examined by geologists for mineral percentages and stratigraphic contact points, giving exploration companies the information necessary to begin or abandon mining operation in a particular area.
Zinex Mining currently manufactures three models of diamond drills — all powered by John Deere diesel engines. A compact, power-dense PowerTech™ 4.5L engine drives the A5 model, a deep-hole surface drill. The new TR-LS5, designed for diamond and geotechnical drilling, is powered by a complete John Deere powertrain, including a PowerTech Plus 6.8L Tier 3/Stage III A engine and a Funk Series 28000 double pump drive. Zinex is currently testing a new deep-hole drill that will also feature a complete John Deere powertrain, including a PowerTech Plus 6.8L engine, Funk Series 28000 double pump drive, and a Funk HMD 4-speed transmission. This new drill will be available in winter 2016-2017.
"We've used John Deere since 2007 and we're happy with them," adds Conley. "And although it rarely happens, if a repair is needed, the engines are easy and simple to fix."