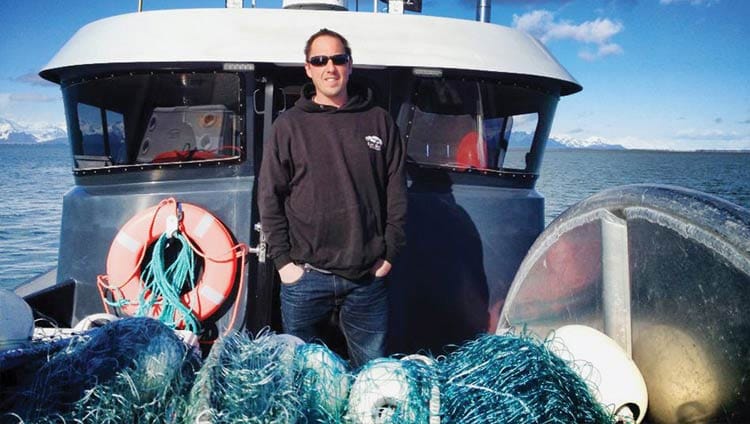 Marty Wise had never been one for convention. While others worked steady jobs from 9 to 5, he preferred working 20-hour days, seven days a week. He relished the "risk and potential" of what the next day might bring out on the open waters. And as a fisherman, he continued with his trend of nonconformity, honing in on the potential of the "dog fishery" by primarily focusing on the lower-priced, more plentiful chum pieces.
When it came time to construct a new bowpicker, it was once again because of his ability to see potential in the nonconventional that led to another bold choice. Wise chose a PowerTech™ 9.0L engine to power his new boat — making him a diesel minority. He didn't mind bucking a local trend or two, and he knew he would be in good company. "My old fishing boss has 20,000 hours on his John Deere engine, and I know of five big seiners with twin John Deere engines with piles of hours on them."
Powering his boat with a diesel engine in a fishery heavily dominated by gas-powered boats might have turned some heads, but he had sound reasons for his decision. He wanted better fuel economy and engine longevity. "I was primarily interested in a single diesel for fuel efficiency," Wise says. "There's good money to be made in fishing, but the more you can put into your pocket, the better."
Confident in his choice of a diesel over gas engine, Wise commissioned the build of his new Freddie's Marine –designed bowpicker. The Grayci Lynn was outfitted with a 425 hp (317 kW) engine. The lightweight, flat bottom planing hull has become a popular boat among gillnetters wanting speed. And like other local fishermen, he wanted jet propulsion for shallow fishing on the Copper River Delta and easy maneuvering around the drift nets. He achieved this by pairing the 9.0L engine with an UltraJet 305HT water jet using a ZF transmission with a 1:1 gear ratio. Fully loaded, the Grayci Lynn has a displacement of just 7.3 metric tons (8 tons) with fuel and crew. The lighter displacement allows Wise to pack more fish.
Wise cut his fuel bill in half when he made the switch and also expects to see reduced costs in the maintenance of his slow-turning diesel. "The starters and fuel pumps on gas engines are always needing to be replaced because they run hard. We run 1,200 hours a year, and in the off season I should have zero maintenance outside of oil changes."
Instead of having to replace a gas engine after three or four seasons, Wise expects 15 seasons of smooth sailing with his diesel engine. He knows he made a great choice. We think he made a Wise one.