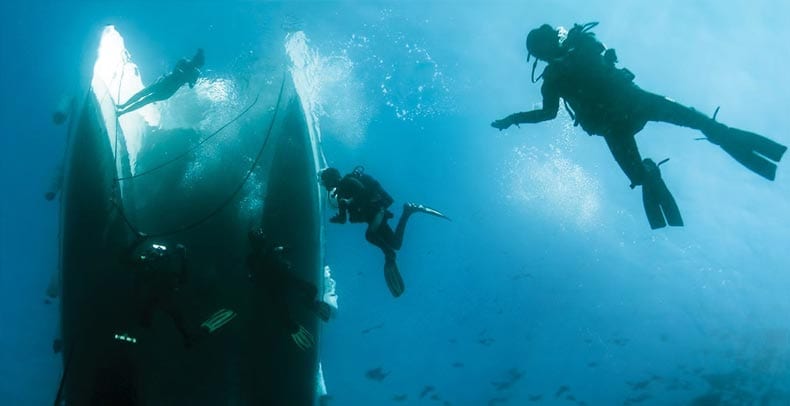 Scuba diving is an excellent way to explore a sense of physical and emotional freedom — and physical disability should be no barrier! M. Rota Diving in Torredembarra on the Costa Daurada in Spain makes the experience accessible by combining two distinguishing ingredients: ONAWA — a unique supply vessel turned diving catamaran — and a team of committed, certified scuba instructors.
When Miquel Rota bought ONAWA in 2010, he knew her spacious hydraulic platform at the stern would make her ideal for diving services, particularly for people using wheelchairs. Rota and his two children are all trained Handicapped Scuba Association (HSA) professionals and are fully competent to support people with disabilities, including paraplegic, quadriplegic, amputee and blind divers.
The 12-meter (39-foot) ONAWA, with her 5-meter (16-foot) beam and 1-meter (3-foot) draft, was originally a supply vessel for the America's Cup in Valencia. Inside the catamaran's hulls are two brand-new John Deere PowerTechTM 4045TFM50 engines. "When I bought ONAWA, the original engines were still in good order," says Rota. "But last year, after two repairs during high season, I knew it was time to upgrade. We're in a seasonal business, and we can't afford to be idle in the summer. I wanted an engine that was reliable no matter what."
Anyone with a passion for diving, or a keen interest to explore it, will find the Rota family knows both diving and good service. "We go all out to offer the best experience in guided diving excursions, snorkeling and specialized diving," said Rota. "It is very rewarding to see people push themselves to levels they never believed possible and then leave with a big smile on their face! We're very fortunate to have clear waters and an excellent microclimate and a reliable and comfortable cat like ONAWA."