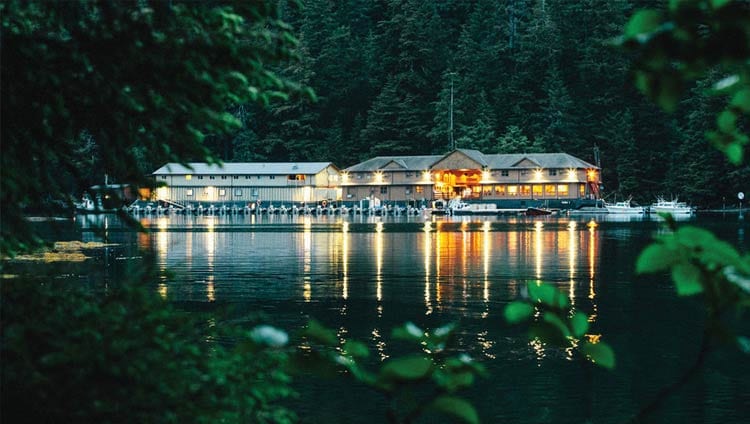 Helicopter blades shuffle to a slow swooping cadence, and soon a blanket of tranquility settles over the Lodge at Hippa Island moored in British Columbia.
Welcome to Haida Gwaii, a Canadian archipelago off British Columbia's north coast, where 150 rugged islands rise majestically from the Pacific Ocean. Formerly known as the Queen Charlotte Islands, the archipelago was officially renamed in 2010 to recognize the history of the Haida First Nations people. Some also call the region the "Galapagos of the North" for its numerous plant, animal, and fish species. Its saltwater flourishes with trophy chinook, tail-walking coho, and bottom-dwelling halibut, lingcod, and rockfish — making it an angler's paradise.
Morey Maslak has enjoyed this scene for most of two decades. Starting his career at Westcoast Resorts as a fishing guide, Maslak now serves as its general manager of Haida Tourism LP and oversees the two remote sport fishing lodges anchored in prime fishing grounds.
Few would ever realize that the luxurious floating accommodations were once chip barges that worked the British Columbia waterways. Renovated and refurbished, the barges were transformed into five-star accommodations, complete with gourmet kitchens, hot tubs, and massage services.
Expect a good night's sleep, too. In accordance with the peaceful wilderness surrounding the resort, Westcoast Resorts powers each lodge with a pair of quiet-running generator sets powered by John Deere industrial engines that are keel cooled (rather than radiator cooled), making use of the endless supply of raw water.
"The John Deere engines are bulletproof," says Maslak. "We operate in very remote locations and have no access to any municipal services. We're essentially out here on our own, and we need to make sure that the heart of our operation is reliable. That's why we run John Deere engines."
The resort's logbooks prove their impressive performance. A 100-kWe generator powered by a John Deere engine had accumulated a whopping 37,000 hours before it was replaced this past April. "You definitely feel like you got your money out of that unit," says Maslak. "It didn't owe anybody anything."
After the old generator set was dismantled and removed, Westcoast Resorts replaced it with another generator set — a 150-kWe model, this time powered by a PowerTech™ 6.8L marine engine. The generator set powers the entire facility, including four walk-in blast freezers and refrigerators for hotel food and fresh-caught fish.
Quiet, continuous power that's unobtrusive adds to the overall Haida Gwaii experience — described by Maslak as "majestic, beautiful, and magical."