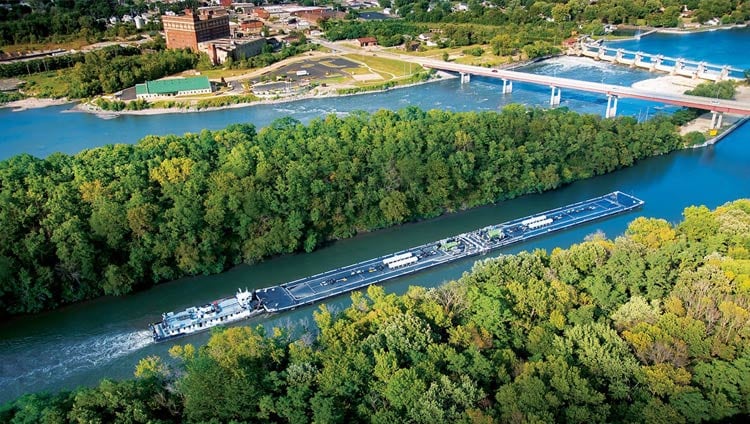 Towboats and tank barges of Magnolia Marine Transport (MMT) have been plying the waters of America's inland waterways since 1973. Located in Vicksburg, Mississippi, MMT operates one of the largest inland waterways black-oil transportation fleets in the United States. MMT moves asphalt, crude oil, process oils, fuel oil, and other products throughout the Mississippi River system and intercoastal waterways of the Gulf of Mexico.
Dennis "Dino" Ross Jr., vice president of marine engineering for MMT, says the company has been committed to meeting Environmental Protection Agency (EPA) and USCG regulations since the start of operations.
"We started buying John Deere engines in 2003," says Ross. "As our two-stroke engines became aged and out of date, we wanted engines that could handle the workload while meeting regulations. We did a lot of research and chose John Deere."
In 2014, MMT began purchasing new radiator-cooled, dry-exhaust manifold engines certified to meet U.S. EPA marine Tier 3 emissions requirements. Two new black-oil heater barges — the MM16 and MM18 — are the first in the fleet to receive the new engines. The MMT fleet consists of more than 60 tank barges and is powered by 18 towboats.
On deck of the MM16 and MM18, the engines drive pumps that offer the capability to move a variety of petroleum products. "We try to be versatile," says port engineer Barney Huskey. "Very few companies run tank barges with the capability to transport both hot asphalt and crude oil."
According to Huskey, the new engines have performed reliably over the years. "The Dorothy Lee was the very first tugboat to receive a pair of generators," he says. "The 6068TFM76 engines have 44,328 hours on them, and we haven't overhauled them yet. Four other push boats have John Deere–powered gen-sets with over 30,000 hours."
"I remember the first John Deere engine and how quiet it was," Huskey says. "Less noise fatigue makes me feel saner at the end of the day."
Just as John Deere engines are populating the MMT fleet, John Brown, chief engineer at MMT, says the engines are gaining popularity among other marine transport companies as well.