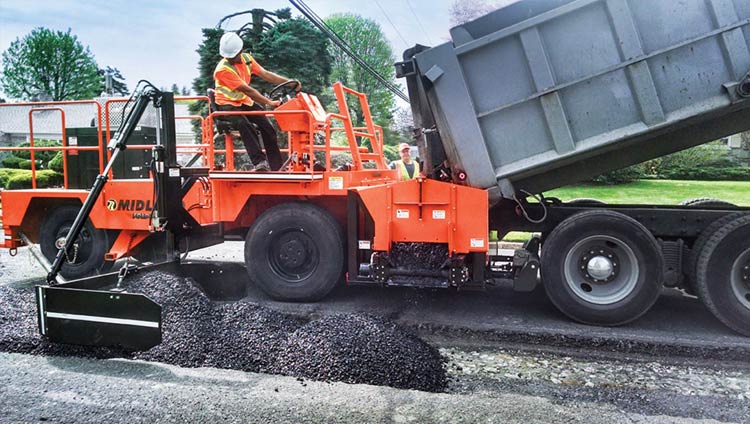 Midland Machinery Co. Inc., a manufacturer of specialized road maintenance equipment, has been revolutionizing the industry for over 45 years. The company made its mark in the 1980s by designing an offset road widener with a conveyor and strike-off blade.
The traditional road-widening process could involve up to four separate machines to excavate the area next to the road, place a layer of material into the strip, make that strip load-bearing, and then level off the area.
"When we introduced our road wideners with a conveyor and strike-off, it sped up the process and cut costs by using less equipment and just the right amount of material so there wasn't wasted product," said Barre Banks, president of Midland Machinery.
Today, Midland Machinery continues to design innovative products. In 2015, the company unveiled the hydrostatic, self-propelled SPF-8 road widener. While the company made several strides adding to its equipment lineup and transitioning to Tier 4 compliance, one thing has remained the same: Midland Machinery still relies on proven horsepower to drive its equipment.
Prior to the SPF-8, an 85-hp (63 kW) John Deere PowerTech engine powered most of the company's road wideners. "For the last 20 years, we've been exclusively powering our machines with John Deere engines. With John Deere engines at the heart of our machines, we're confident they'll work day in and day out — trouble-free."
The fully transportable, Tier 4 SPF-8 is powered by a 74-hp (55 kW) John Deere PowerTech EWX 4.5L Final Tier 4 engine. The SPF-8 can push a fully loaded 18-wheeler weighing 80,000 pounds (36 metric tons) with its blade extended and loaded to the max.
The machine's compact size removes the hassle in moving from jobsite to jobsite. Once in transport mode, it measures only 98.5 inches (2.5 meters). "The SPF-8 can be folded up and trucked around town or across the country — day, night, or weekends — without a hauling permit. It's a whole new concept," Banks said.
The SPF-8 was designed from the ground up, and built to perform several jobs outside of road widening. According to Banks, the SPF-8 is able to build and maintain shoulders and turning lanes, and can be used for road rehabilitation. It can also backfill trenches and cover newly installed utilities, such as road edge drains, sewer lines, and fiber-optic cables.
Midland Machinery has traveled a long road to achieve Tier 4 compliance and has formidable equipment to show for it. The SPF-8 is a needed improvement for the road-widening industry, helping to relieve traffic pressure and increase road safety.