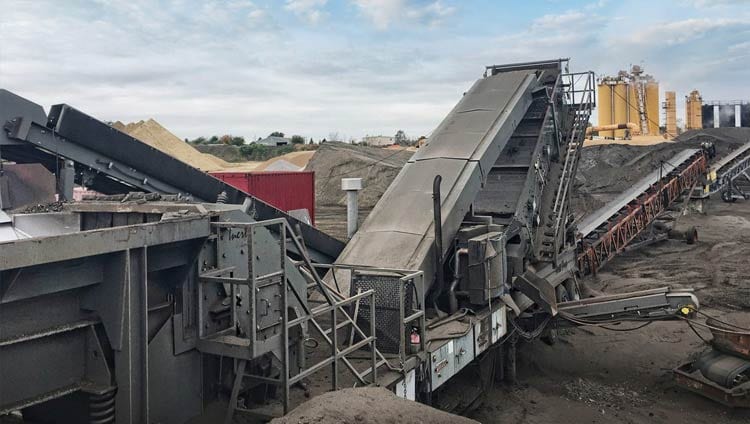 Builders Asphalt, a small family business that produces asphalt material used in driveways, parking lots and highways, has been a part of a growing trend to use fractionated recycled asphalt pavement, or FRAP, in their asphalt product. While the company has always used recycled asphalt in their mix, they started fractionizing recycled asphalt about five years ago when it became a popular practice in Illinois.
Beth Conley, manager at Builders Asphalt, has more than 20 years of experience in the concrete and asphalt industry and has experienced the movement toward the use of fractionated asphalt. "Many companies in this area had a huge inventory of recycled asphalt that served absolutely no purpose," said Conley. "When the state started promoting the practice of using FRAP in the asphalt mix, they gave us an avenue to recycle even more of this material."
Builders Asphalt tackles the tough job of fractionizing the asphalt with help from the two 4048 FRAP plants they purchased from Inertia Machine. A manufacturer of some of the largest portable aggregate crushing and screening equipment on the market, Inertia Machine works with companies like Builders Asphalt to provide machines that fit their specific needs. A John Deere 9.0L engine is at the heart of the 4048 FRAP machines, providing the inner strength needed to power both the impactor and the 125 kWe generator that supplies electricity to the shaker motors and conveyors.
"As the industry continually looks for ways to reduce operational costs, we found the John Deere engines to be reliable and fuel-efficient, both factors taken into consideration when determining the cost per ton when crushing asphalt," said Justin Stuatevant, production engineer at Inertia Machine.
"We purchased the 4048 FRAP plant so we could produce large amounts of reclaimed asphalt pavement, or RAP, to put back into our asphalt mix at our plant. At this time, 100 hundred percent of the material that is produced by the FRAP plants is run back through our asphalt plant," said Conley.
Headquartered in Elburn, Illinois, about 55 miles west of Chicago, with a second location in the northern Chicago suburb of Skokie, Builders Asphalt is a relatively small business that started with just five people working together to accomplish the goal of becoming prequalified to work on projects for the state of Illinois. Conley led the efforts to get their new plant and lab set up and approved, which involved producing 5,000 tons of asphalt that was tested periodically to ensure it met the standards set forth by the state. It took about five months before the test results were reviewed, and the prequalification certification was granted.
During this project, Conley relied on her strong determination and inner strength to keep the project on track. "It was quite an accomplishment to get through this long process," she shared. "I am one of just a few women in this industry, which made achieving Level 3 prequalification certification for hot mix asphalt from the state even more significant and rewarding."
Conley continued, "I'm humbled by everything I've learned so far, and by the opportunity I have to continue to develop my skills within this industry. I am very fortunate to work with a great group of people, from our customers, to the truck drivers and the entire team within the company, who all share the passion I have for the work we do."