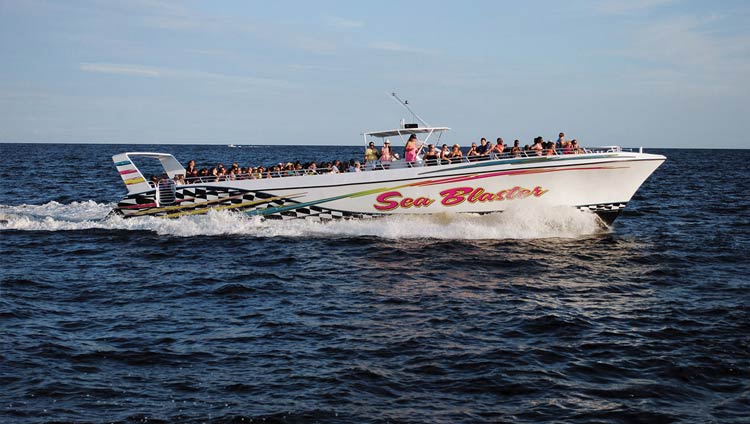 Florida tourism vessels inspired by love for boat racing.
Jordan Bonner has boat making in his blood. He's the third generation Bonner of the Bonner Boats company, and along with his late father and grandfather, he has built over 200 hulls to date. Two of Bonner's newest vessels, the Sea Blaster and the Hydro Jet, are giving tourists the cruising opportunity of a lifetime in the emerald waters of Destin, Florida, their home port.
Bonner says the Sea Blaster, one of the largest boats of its kind in the world, is built for speed and power. The ship's deep-V planing hull has a 4-foot draft and features a keel that extends the length of the boat, and the ship cruises up to 26 miles per hour (23 knots) at 2100 rpm.
The 130-passenger Sea Blaster is the brainchild of Jordan's late father Mike Bonner, whose love for boat racing led to the development of a tourist vessel anyone with a need for speed can enjoy. The Bonners have built a lot of boats over the years, and John Deere marine engines power 90 percent of them.
"All of our drawings have the John Deere engine in place," says Bonner. "The engines are easy to build around. We compared them to other (competitive engines), and John Deere has the best fuel economy at the speed where these boats need to run. John Deere — just like it's always been — is the best choice."
A longtime customer and supporter of John Deere marine engines, Mike Bonner powered the Sea Blaster with twin PowerTech™ 6135SFM marine engines. Rated at 650 hp (485 kW), the engines swing 34×32-inch (86×81 cm), 4-blade props through Twin Disc transmissions with a 2:1 gear ratio.
Altogether, Jordan says he and his father built 12 speedboats. For several years, high fuel prices temporarily tempered demand. However, improvements in engine fuel efficiency — especially by John Deere — made it possible for tourism operators to cut their fuel use in half, making the speedboat tourism business profitable again.
Bonner also sees a lot of market potential for his one-of-a-kind Hydro Jet. The Hydro Jet can exceed 35 miles (56 km) per hour — which Bonner explains is very fast for a single-engine boat of that size. It runs with a PowerTech 9.0L engine rated at 500 hp (373 kW).
The prop was custom built by Mike Bonner, who wanted to make best use of the engine's get-up-and-go power. The prop measures 27×33 inches (69×84 cm) and features six blades. The surface-piercing propeller runs half in the water, half out of the water, giving the boat a very shallow 18-inch (46 cm) draft. "It has characteristics of a jet, but it's not a jet," says Bonner. "There are no pumps."
R.J. Stough, owner of the watercraft, says he chose John Deere not only for its power but also its fuel efficiency. "We were looking for fuel economy, and John Deere is better than anything else out there."
Jordan Bonner spends much of the summer running the Hydro Jet along Destin's coastline amusing tourists; afterward, he heads back to Wetumpka, Alabama, where Bonner Boats is based. There, he will continue on with the designs and dreams that his forward-thinking father started.