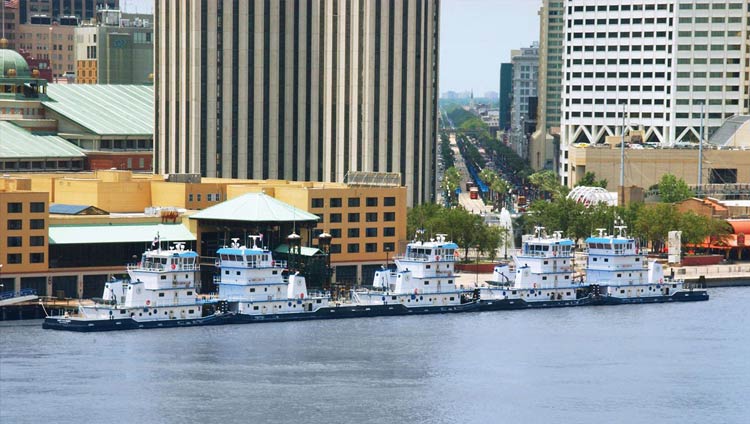 Norman Antrainer turns coy when asked about his title at Florida Marine Transporters. As manager of strategic asset planning, Antrainer jokes that his position sounds a little uppity for a Southern boy.
Truth is, Antrainer's job is indeed important. The Mandeville, Louisiana, company is one of the largest inland transporters of gas, diesel, and aviation fuels. For the past few years, Florida Marine Transporters has been in the middle of a progressive new-build program. Antrainer's responsibility, along with fellow employee Jeff Brumfield, senior project manager, is to ensure the vessels are safe and reliable.
In the world of petroleum transportation, downtime is downright bad news. A mechanical failure can cause safety issues, transportation delays, fines, and financial loss.
"We are mainly fueling America with automotive, airplane, and heating oil," Antrainer says. "You don't want to jeopardize what keeps America rolling."
To keep pace with demand, Florida Marine Transporters operates 60 canal-class towboats and 23 river-class towboats up and down the mighty Mississippi River, it's tributaries, and its intracoastal waterways.
Antrainer says having a plentiful and reliable source of gen-set power is vital in the operation of a towboat. Gen-set power serves critical functions such as steering, searchlights, navigational gear, the galley, living quarters, as well as winches that hold the towboat and its barges together. For this reason, Florida Marine Transporters powers its towboats with twin 99-kWe gen-sets powered by John Deere marine engines.
"We want the competitive advantage that comes with having solid, dependable equipment," Antrainer says. "John Deere has provided that for us."
After years of powering its towboats with the PowerTech 6.8L engine, Florida Marine now installs the new PowerTech 4045AFM marine engines to comply with Tier 3 emissions regulations. The John Deere-powered gen-sets alternate operations every 24 hours, each serving as backup to the other.
The towboats are part of an ever-growing fleet of boats and barges with John Deere-powered gen-sets and pump engines. These vessels have also included 35 hot-oil barges, 71 clean-service barges, and 14 refurbished river-class towboats.
All in all, Florida Marine Transporters has purchased and installed 295 John Deere engines.