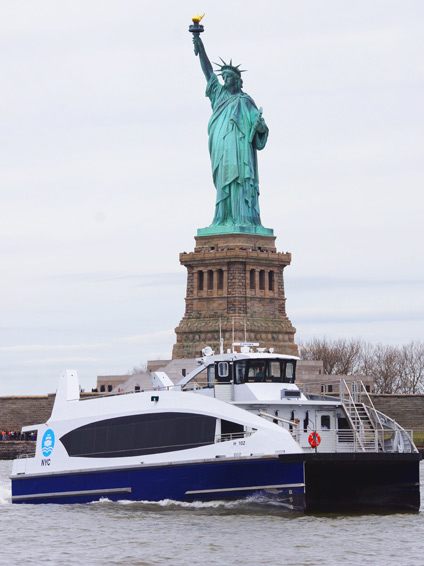 Imagine you're visiting Wall Street in New York City and you decide to watch some surfing on Rockaway Beach in Long Island. Normally, it would take you three subway rides and over two hours to get there, but you check the new NYC Ferry app for the fastest route. Leaving the subways and shuttles behind, you hop aboard a new, clean, air-conditioned ferry on Pier 11. You relax in a comfortable seat and get whisked away to reach the destination in half the time, while enjoying concessions, free Wi-Fi and panoramic skyline views.
Furthermore, you paid only $2.75 — the same price of one subway ride. And you think to yourself: Does public transportation get any better?
That's the reality for a growing number of New Yorkers relishing the launch of a new fleet of ferries already making nautical rounds to four New York City boroughs: Brooklyn, Manhattan, Queens and the Bronx. A Staten Island route will be added in 2018.
The ferries are owned and operated by NYC Ferry operated by Hornblower. The company is reinventing the Big Apple's waterborne commuter transport system after being awarded the exclusive ferry contract by the City of New York.
Sarah McDonald, special projects coordinator for NYC Ferry operated by Hornblower, says the ferries will operate from 5 a.m. to 10:30 p.m., seven days a week, year-round. She says the new ferry system will help alleviate city gridlock and crowded subways, especially during rush hour. Seating should be plentiful, too. Each ferry carries up to 149 passengers.
All 20 high-speed ferries are mirror images of each other and feature aluminum hulls measuring 26 meters (85.4 feet) long with an 8-meter (26.3-foot) beam. Each ferry has two fuel-efficient generators – driven by PowerTech™ 4045TFM85 marine engines — that alternate operations every 24 hours, one serving backup to the other. One generator supplies ample power to the electric-over-hydraulic steering, air conditioning, heating, lights, sound system, cameras and navigation equipment. They even power the multi-colored lights that give the ferries a distinctive nighttime glow.
Scores of New Yorkers are eager to come onboard. "People have been responding well to this new ferry service," says Junior Volpe, who monitors construction for Hornblower Ferries. "They're so excited to have a new mode of public transportation that's affordable, on schedule and safe. Many can't wait to board the boats, and after they've taken their first ride, they keep coming back for more."