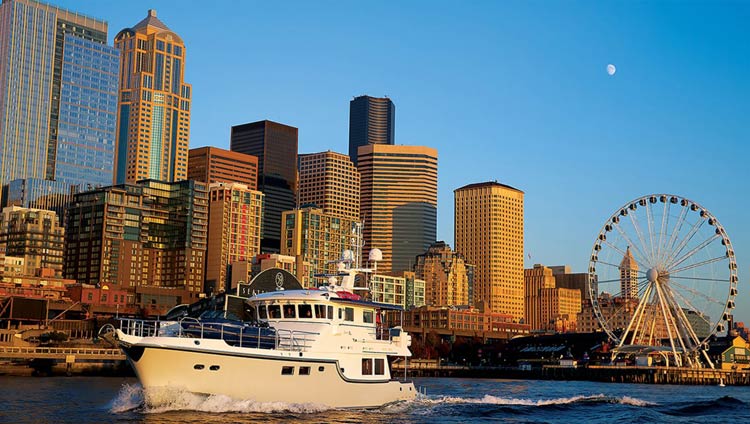 Boating has been an evolutionary process for Murray Birch.
He recalls his younger days when cold-weather sailing satisfied his spirit of adventure. As time went on, however, the year-round boater found his interests shifting from wind power to engine power. Nearly 30 years and five powerboats later, Birch recently acquired what he believes is the vessel that will take him cruising well into retirement — a John Deere-powered Nordhavn 63 motor yacht he named Operata De.
"It's a maturing process," says Birch, remembering the last 25-plus years of boating up and down the Pacific Northwest. "Motor yachting opens up a whole new level of comfort and adventure."
That's certainly the case for the Nordhavn 63 — a spacious yacht that shares the same seaworthiness of Nordhavn's other popular models. These yachts are built to take you literally anywhere in the world — and carry you there in luxury.
"Nordhavn is one of the best quality production boats on the market," Birch says. Yet there are features of the Nordhavn 63, he says, that take the vessel "to a whole new level" of comfort. He likes the layout, noting that the saloon, galley, and staterooms are all on the same level.
Below deck, the Nordhavn 63 sports a more spacious engine room with headroom to stand. Sharing the space are two compact John Deere engines: a single 242-kW (325-hp) PowerTech 9.0L main propulsion engine, flanked by a John Deere 4.5L wing engine.
Birch says he will likely cruise the coastline at 8 knots. Offshore, he expects to cruise at 7 knots, which will lower fuel consumption to 23 liters per hour (6 gallons per hour). With 9,463 liters (2,500 gallons) of fuel onboard, the Operata De has a projected range of at least 3,000 nautical miles.
"It gives you the expanded range to go offshore," Birch says. This summer, he and his partner, Rebecca Sullivan, are planning a trip to Alaska's Inside Passage.
Birch says a seaworthy yacht powered by a reliable engine gives him the confidence to travel the blue abyss. "The Pacific Northwest offers some of the best cruising in the world," he says. "But someday, it will be nice to take the vessel further afield."
And now he believes he has the boat, engine, and confidence to do it. Although John Deere engines are standard to the Nordhavn line, owners still have a choice of engines. But John Deere engines are the most reliable, he says.
"I came from farming country. John Deere builds hardworking engines that run and run and run. That's what you want in a boat. And there's no question: you can find good, dependable service around the world with John Deere. Powering the yacht with John Deere is an easy choice."