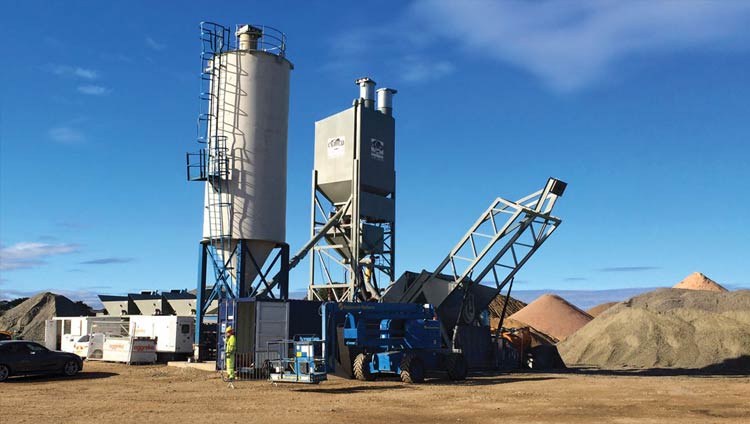 Despite its small size, Scotland is a treasure trove of diverse beauty — with freshwater lochs, historic castles, rugged coastal landscapes and single-lane carriageways stretching across rolling hills. While these narrow roads have old-world charm, they can also pose challenges to commuters, especially in highly populated regions. Around the coastal city of Aberdeen, for example, traffic can become menacing at rush hour.
Fortunately, the long-awaited Aberdeen Western Peripheral Route/Balmedie to Tipperty (AWPR/B-T) project is underway. Once finished, the 58-kilometer (36-mile) dual carriageway in northeast Scotland will offer much-needed traffic relief in and around Aberdeen.
Amid the hustle and bustle of construction, a Cemco concrete batch plant and mixer work in tandem. The mighty duo, pegged the Cemco 340 Portable Paving Package, works around the clock delivering fresh batches of concrete, made to order.
The beauty of the Cemco 340 is that concrete can be batched and mixed close to where it is poured, eliminating the need for long-distance hauls with ready-mix trucks. That's a big plus, because in the world of concrete, the fresher the better. "Contractors can set up in close proximity to the jobsite and can mix the appropriate amount of dry ingredients on an as-needed basis," explains David Meschkat, design engineer at Cemco, Inc. "Batches are then delivered by lorry or dump truck right to the slipform paver."
The Cemco 340 offers another distinct advantage: It can be set up anywhere it's needed, without any link to the power grid. That's because the plant is totally self-contained, powered by two John Deere diesel engines. A 129-kW (173-hp) John Deere PowerTech™ PSS 4.5L engine powers the batch plant, while a 261-kW (350-hp) John Deere PowerTech PSS 9.0L engine drives the central mixer.
With completion of the AWPR/B-T scheduled for winter 2017, it's expected to carry more than 43,000 vehicles each day through its busiest sections. The project is estimated to cut journey times across Aberdeen by up to half at peak periods, reducing congestion and improving driving safety. It's also projected to help business and enhance the country's tourism industry. After all, Scotland is a small island full of visual splendor, with roads — old and new — just waiting to be explored.