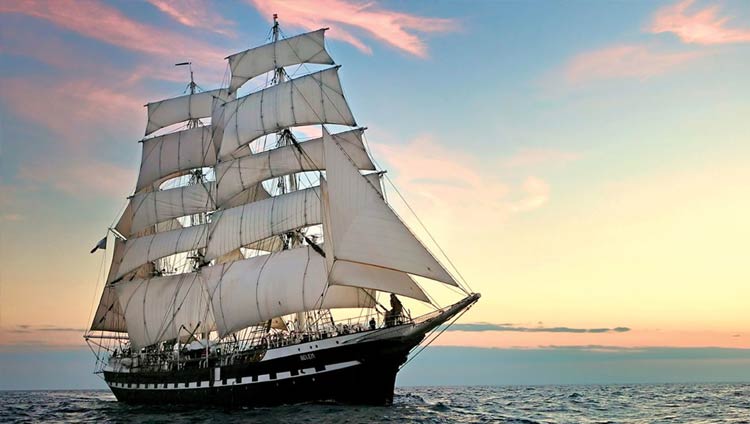 The Belem, a merchant ship built in 1896, is the pride of France. It is a remaining example of a 19th-century French three-masted barque still sailing the high seas. During its 118-year lifetime, the Belem has narrowly escaped a volcanic eruption, a tsunami, and the perils of repeated human conflicts.
Since it first set sail, the Belem seems to have had a lucky star shining on it. Built near Nantes in France, the Belem takes its name from the Brazilian port where the ship's owners founded a trading post several generations earlier. The Belem had its first escape on May 8, 1902, when it planned to berth at Saint Pierre in Martinique but discovered the harbor was already full. Obliged to anchor farther up the coast, this seemingly bad luck turned out to be good fortune. The next morning the volcano Montagne Pelèe erupted, causing massive destruction to all boats in the Saint Pierre harbor but leaving the Belem safe and sound.
The Belem has sailed under the French, English, and Italian flags, and has been owned by famous men, including Sir Arthur Ernest Guinness of the Guinness brewery. Now owned by the Foundation Belem, the ship functions as a training vessel and museum, and represents France at events worldwide. The Foundation Belem aims to ensure the ship is accessible to as many people as possible. Its training voyages are open to everyone, with some 1,200 trainees per year learning the basics of sailing this remarkable vessel. As a dockside museum, it attracts 25,000 visitors annually.
Most recently, the Belem faced a challenge of another kind — a race against the clock to install and test new engines and a gearbox by March 16, 2013. On that day, the ship was due to be the star attraction at the opening of the Jacques Chaban-Delmas Bridge in Bordeaux, Southern France, with a host of dignitaries attending.
The Foundation Belem turned to John Deere for twin PowerTech™ 6135AFM 429 kW (575 hp) engines to meet its requirements for reliability, power, low noise, and ease of maintenance.
The new engines increased the ship's cruising speed, and gave it more stability and velocity in big waves. In harbors, docking has become easier and safer as the Belem can move, turn, and leave the quay without help. The engine's torque, the gearbox, and the ZF SmartCommand complement each other perfectly.
Belem sailed proudly under the Jacques Chaban-Delmas Bridge in front of thousands of cheering locals, as well as political and business leaders. One thing is for certain: Wherever the Belem sails, it is beloved by all.