At John Deere, we run for the people who trust us, and our customers are at the center of everything we do. There was one Asia Pacific community event where we were able to demonstrate this once more.
The Women's Amateur Asia-Pacific Championship(WAAP) was held at The Singapore Island Country Club (SICC) from 9 – 12 March, 2023 and a group of John Deere Asia's employees participated as volunteers in the event to set up and maintain the course in the best condition for the tournament.
The WAAP is the most significant women's amateur tournament in the APAC region and provides the champion with a launch pad into multiple women's major championships. The Championship is supported by prestigious global brands such as Rolex, Nippon Kabaya Ohayo Holdings, Hana Financial Group and Samsung. This year was its 5th edition and it was televised internationally.
The host, the Singapore Island Country Club(SICC) is one of the most exclusive and oldest private clubs in Singapore and is known to be a club where the 'dawn of golf' started. Even with the challenges from the Covid-19 pandemic and restrictions, the club underwent a grand redevelopment project to establish a 27-hole golf course that is worth over S$ 50 million (U$ 37 million) cost.
John Deere Asia worked with its Singapore dealer AT & Besquip to help TEHC International provide turnkey solution to SICC, that included the supply of all John Deere equipment to manage maintenance of the new golf course in its best green condition. The 5th WAAP was held at this new course and it was the first time in a decade that SICC hosted such a prestigious international tournament. The John Deere machines used to prep for the tournament are as follows:
Putting Greens: 10 units of 220E Walk Behind Greens Mowers and 2 units of 2750 Precision Cut Triplex Mower
Fairways: 2 units of 7700A Precision Cut Fairway Mower and 2 units of 8700A
Tee Box: 4 units of 2653B Trim and Surrounds Mower
Bunkers: 2 units of 1200A Bunker Rake
Support activities such as fertilizers spreading, top dressing, blowing and transport: 3 units 4052 Compact Utility Tractor, 4 units of ProGators and 4 unit of TX Gators.
To celebrate this meaningful community event and show our support for our customers, John Deere Asia's employees showed up at the SICC field at 5:30 in the early morning and worked hard to ensure that the golf course was tournament ready before the players would tee off at 7:30 am.
"We divided ourselves into two teams to work on front and back nine respectively, putting on the headlights and working in pitch dark conditions. We had to ensure that tee boxes were in immaculate condition ready for tee off, fairways were clean and free of debris and leaves, especially in steep slopes where machines were not easily mobilized and repairing divots on putting greens," said Lim Ting Ting, Strategic Account Manager, Golf & Turf, at John Deere Asia (Singapore) after the event.
She also said, "It was a meaningful experience as all of us volunteers were able to actually realize how much hard work is needed to produce the playing conditions that golfers enjoy, and that golf course maintenance is far more complex than simply mowing grass."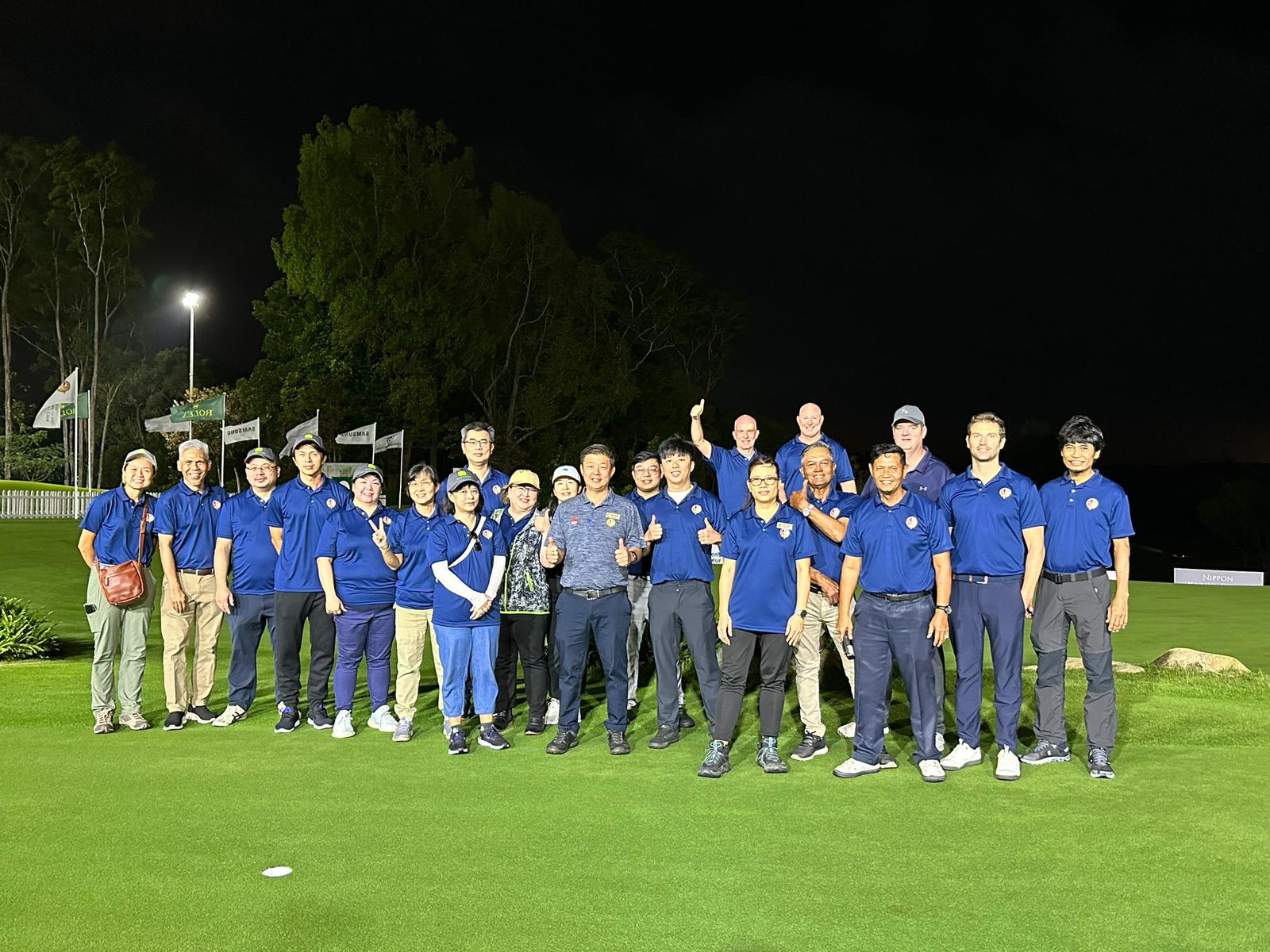 * For more information about John Deere and its line of Golf & Turf products, you can contact your local John Deere dealers or leave your inquiry through our Contact us form.