In 2018, Gao ZhenLong, a villager in Yuanbaowa Village, Chifeng City, Inner Mongolia, purchased 3 John Deere C120 combine harvesters, unheard of at that time for an independent contractor, who was not a member of any agricultural machinery cooperative.
But his harvesting capacity with an annual operating area of more than 4,000 mu of millet and sorghum per machine, netted a profit of about 200,000 yuan. The continued performance was more than enough to help Gao ZhenLong gain a good reputation.
How The History Began
"In 2008, I was working in Chifeng and only earned about 10,000 yuan, while my cousin earned more than 13,000 yuan in 7 days by plowing the land in the countryside, which influenced me to join this profession." With this idea, in 2009, he began to prepare for entering the agricultural machinery service industry. But after learning that a Deere 904 tractor, the model he aimed, actually sold for more than a hundred thousand yuan, he was very distressed.
"At that time, my family didn't have much money, and everyone in my family was against buying a tractor. The amount of money needed for the tractor could buy a decent house. But in the end, they couldn't resist me, sold all the sheep in the farm, scraped together hundreds of thousands of yuan, and bought this Deere 904 tractor."
Hard Work and Integrity That Moved Customers' Mind
The first few years were very hard, because the family had spent all their savings for the tractor, so there was no money to hire operators. While others worked two shifts a day, Gao ZhenLong had to work nearly 12 hours a day from morning to night.
His hard work paid off. With continuous efforts, he grew his fleet, and in 2013 he purchased a John Deere W70 combine harvester. "We basically don't have the equipment to harvest grain locally, and we relied on large-scale combine harvesters and manually harvested across regions, so I decided to buy a Deere W70 combine harvester to harvest grains." It turns out the machine made up for the gap in the mechanized harvesting, creating a very high income for him.
Gao ZhenLong became well-known in the local agricultural community, and growers began calling him for his services. "I have always adhered to the concept of integrity, integrity, and integrity. It brought the most value to me for so many years."
Powerful Machines Indispensable To Mechanized Farming
He believes that the achievements today are inseparable from having John Deere's high-end agricultural machinery. "John Deere's equipment is particularly powerful, especially the harvester, and the harvest results are perfect. The grains are clean, and the loss rate is particularly low.
Of course, the C120 combine quality has to be mentioned. it has not even been replaced for two years like others. Those who collect grain can directly pull alongside the machine, which is particularly worry-free. Therefore, every year during the harvest season, many grain collection fleets cue behind my machine, and users do not have to worry about grain quality."
At present, Gao ZhenLong has two Deere 1204 tractors in addition to three Deere C120 harvesters and looking at higher horse power machines.
No Longer Just a Contractor
In 2019, his family responded to the national call to plant soybeans. "Under my father's leadership, in addition to the agricultural machinery services, we have added the agricultural planting sector, and have obtained huge profits, which provides a good financial basis for me to purchase more advanced agricultural machinery in the future."
Gao ZhenLong has already made plans for future development. "The root of agriculture lies in the whole process of mechanization, and I will continue to expand my operator team, transfer more land, and rescue the surrounding families from heavy manual labor. In the short term, I plan to upgrade my tractor to a larger horsepower segment, because now 120 horsepower is no longer competitive. In terms of harvesters, I am already working on the Deere C440 combine, and I want to lead the development of our local harvesters to higher end products, so that we can accelerate modernization of our local agriculture."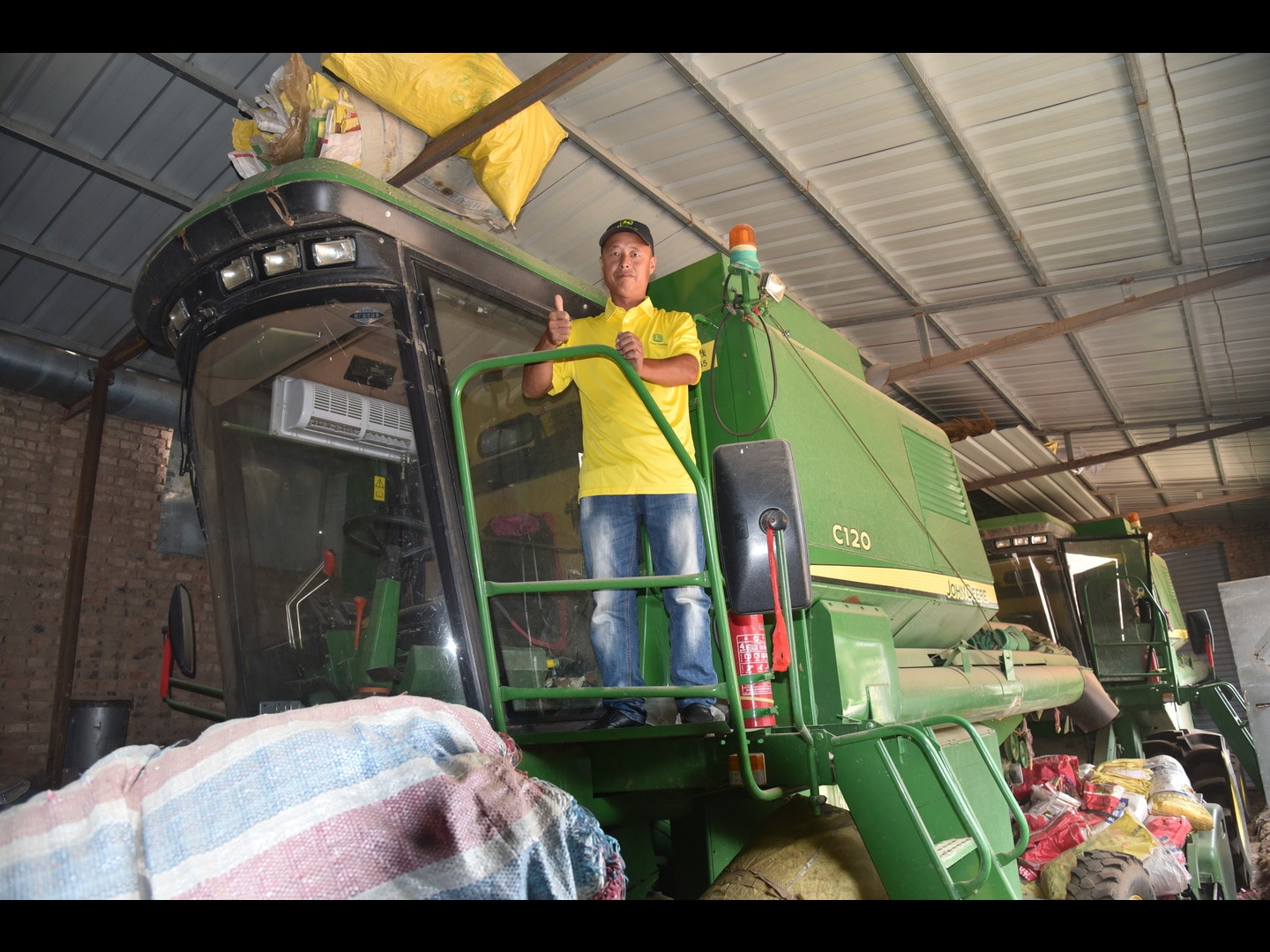 * For more information about C120 combine harvester, you can contact your local John Deere dealers or leave your inquiry through our Contact us form.